Play in Devens
Hiking. Biking. Fishing. With over 1,700 stunning acres to explore and enjoy, Devens is the ideal playground for outdoor enthusiasts of all types. Connect to the power of nature in a place like no other.
Activities
Biking
Get rolling in Devens on miles of dedicated bike lanes that take you down tree-lined streets, past historic landmarks, and around public parks.
Bird-watching
The natural surroundings in Devens are a delight for bird-watchers. The Nashua River Valley is also designated under the North American Waterfowl Management Plan as a significant habitat for migratory birds.
Canoeing & Kayaking
Visitors can stop by the Bill Ashe Visitor Center and drop their own canoe or kayak at the Bill Ashe Canoe/Kayak Dock on the scenic Nashua River. Mirror Lake is a favorite spot for canoe, kayak, and paddle board adventures.
Explore Devens' History
The Fort Devens Museum offers an opportunity to learn about our history and celebrate some of the men and women who have served this nation. Follow the Guide to the Monuments of Devens to pay tribute to our veterans, relearn history, and appreciate the natural surroundings of Devens.
Field Sports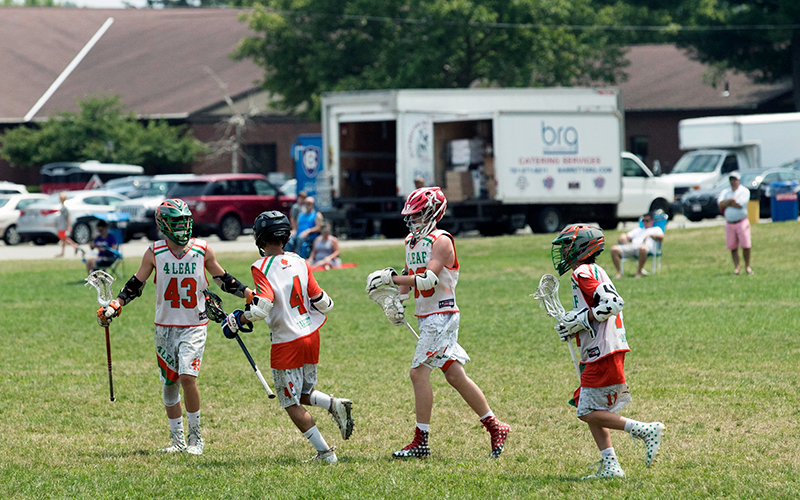 Each year, hundreds of baseball, softball, lacrosse, soccer, and ultimate frisbee events take place in Devens. Let us know if you want to lease space for your next sporting event or friendly competition. View available fields.
Golf
The 18-hole Red Tail Golf Club is a leader in sustainable design and was designated the first Audubon International Signature golf course in New England. Book a tee time, lesson, or your next private event. Contact 978-772-3273.
Devens is home to not one but two Professional Disc Golf Association disc golf courses. Toss your golf disc from tee to target at The Commander or The Hill.
Hiking & Walking
Devens is full of trails for hiking and a variety of walking routes. Ease your stress level by spending time in Devens' green space, woodlands, and parks.
Indoor Fitness
Whether you are an avid gym-goer or new to the workout scene, Anytime Fitness can accommodate your schedule and offer specialized training.
Open Space
Open Space accounts for approximately 1,700 acres in Devens and is part of a larger regional matrix of protected land, floodplains, and wetlands extending along the Nashua River Valley. One of the objectives of the redevelopment of Devens is to protect this environmentally sensitive area.
Black Spruce Bog is an ecological formation composed of a vegetated floating mat surrounded by a moat. This environmental feature is very uncommon and can be found to the southeast of Mirror Lake.
Little Mirror Lake is located to the east of Mirror Lake and is also protected by preservation restrictions. Active and interesting wildlife exists throughout the area.
Mirror Lake is an example of a kettle hole — a deep pond that formed when the last glacier to cover New England slowly melted away. Visitors are welcome to swim, picnic, boat, canoe, or fish during the regular season. A boat ramp is located at the end of Mirror Lake Road and electric trolling engines are allowed. Parking is available in designated areas.
Robbins Pond is a shallow pond known more for its plant life. The area includes a walking trail and provides a great spot for picnics.
The Eskers are steeply sloped land formations created from stream beds that ran within ancient glaciers. This long, narrow ridge densely vegetated with trees and smaller vegetation helps prevent erosion.
The Nashua River connects the northern and southern entrances of the Oxbow National Wildlife Refuge, with the northern boat launch located in Devens.
Swimming
Mirror Lake's beachfront is open to the public from June thru August. Kids can enroll for swim lessons taught by qualified American Red Cross instructors. Season passes are available here, or you can pay an entrance fee for the day.
Winter Sports
If there's snow on the ground, cross-country skiers and snowshoe enthusiasts can enjoy two groomed trails in Devens. The trails are connected and the entire loop is approximately three miles. View the 2023/2024 Trails Map that also highlights available parking.
During the winter a public ice skating rink is constructed on Rogers Field. The rink is open from 7 a.m. until 10 p.m. each day, pending the weather and the cost is free. Participants must bring their own skates and are encouraged to check the Devens Recreation Facebook page for new information on openings and closings. View the 2023/2024 Rules.
Yoga & Wellness
Dragonfly Wellness Center offers class instruction in all aspects of wellness for the body, mind, and spirit, including yoga, tai chi, nutrition, meditation, mindfulness, reiki, Pilates, and more.

Our free Yoga on Rogers Wednesday night summer series will begin again in June 2024. Stay tuned for more details.
Devens Recreation
Devens Recreation manages fun and entertaining programs for local residents and visitors and oversees field and facility rentals for athletic and cultural events. All fields are natural grass with access to portable toilets, trash and recycling receptacles, and remote parking.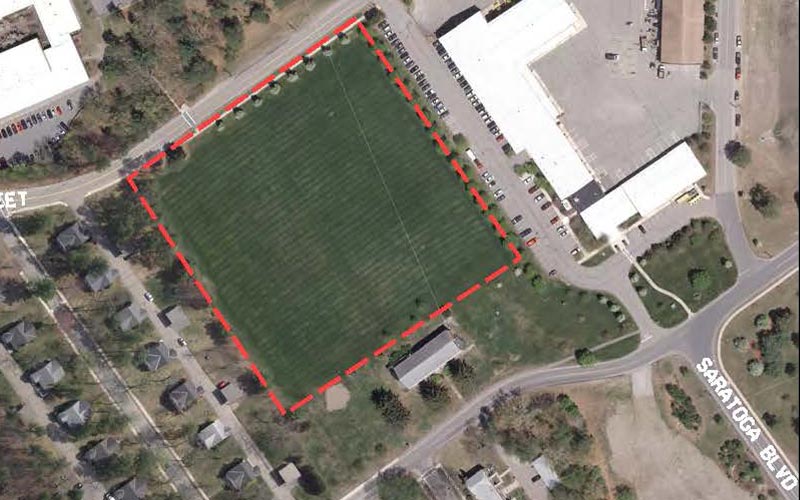 Antietam Field
A regulation-size athletic field for lacrosse and soccer with a separate area for practice and free WiFi.
Size: 5 acres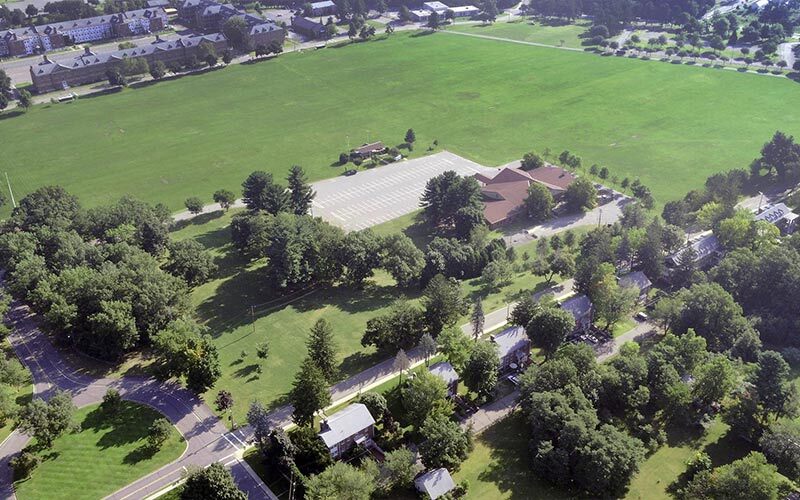 Bob Eisengrein Community Center
Located on historic Rogers Field (100 Sherman Avenue) and available for community events only.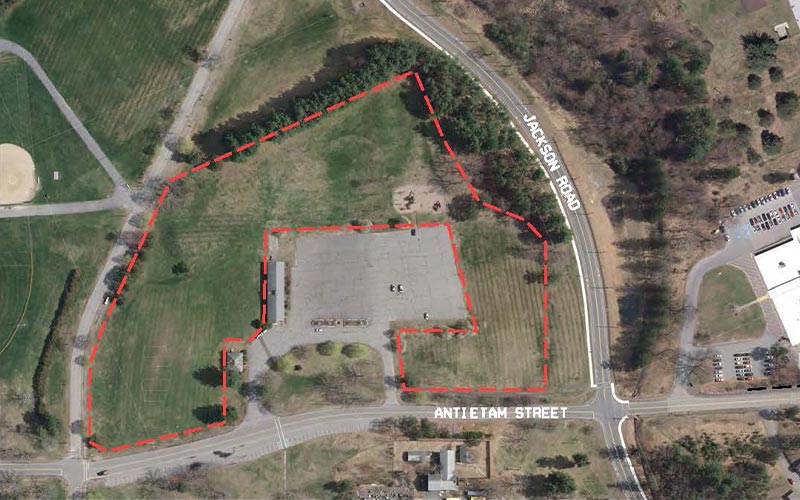 Verbeck Field Complex
A flexible space that can be set up in a configuration best suited to the user's needs. Includes an outdoor kids playground.
Size: 9 acres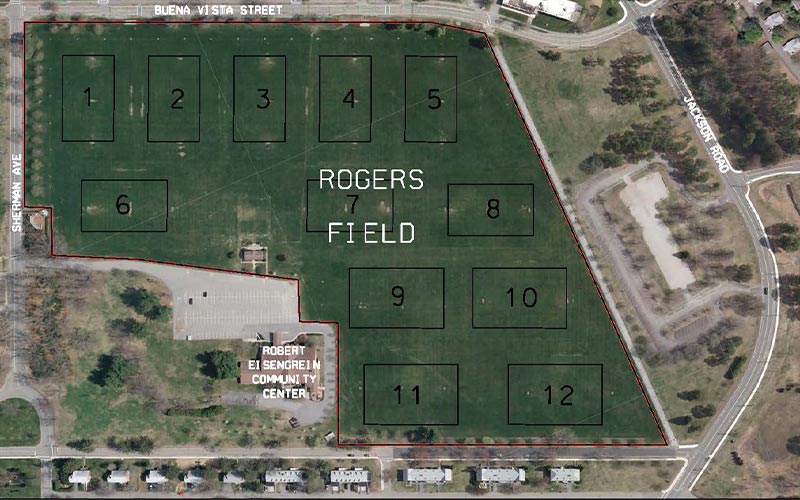 Rogers Field
A 44-acre former military parade field that is an excellent location for camps, events, and sporting competitions. The irrigated area has room for up to 12 playing fields for lacrosse and soccer with power stations and free Wi-Fi.
Size: 31.5 acres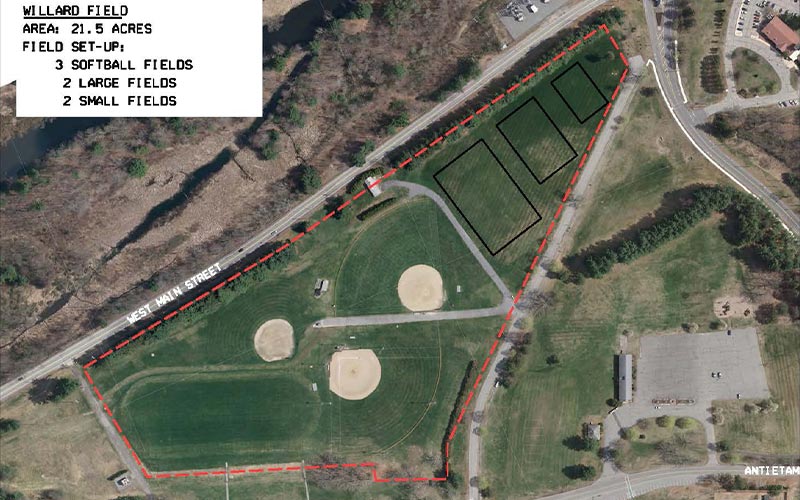 Willard Field Complex
The area contains three softball fields (one with lighting) with bleachers and dugouts; one multiuse, regulation-size field for lacrosse and soccer; and three adjacent, irrigated playing fields (11v11, 8v8, or 6v6).
Size: 21.5 acres
Devens Recreation
Hillary Clark, Recreation/Events Coordinator
99 Buena Vista Street, Devens
978-772-8876
To Top