Back To News
Devens in Demand
Business Park Scores Series of Expansion Projects
Bristol-Myers Squibb is expanding its Devens campus with construction of a 240,000-square-foot cell therapy facility. Photo courtesy of Bristol-Myers Squibb
March 21, 2021 : Banker & Tradesman, by Steve Adams
A surge of developments and business expansions – ranging from clean energy to biomanufacturing and life science research – at the state-run Devens business park are shattering the narrative of stagnant commercial real estate prospects outside Interstate 495.
The recent series of high-profile deals spotlight Devens' increasing attractiveness to commercial developers. The former Army base which closed in 1996 offers a formula for economic growth through affordable land costs, robust utilities for manufacturing and R&D uses and fast-track permitting.
"The 75-day permitting process is a huge, huge benefit to the end users," said Mike Travaline, a senior associate at JLL, which represents MassDevelopment in marketing sites at Devens. "It's become incredibly important for a lot of the biomanufacturing companies. We've heard over and over that it is a tremendous draw for companies coming to Devens."
Just seven shovel-ready commercial sites spanning 62 acres are currently available at the 4,400-acre campus, following recent deals by Boston-based life science developer King Street Properties and clean energy startup Commonwealth Fusion Systems of Cambridge.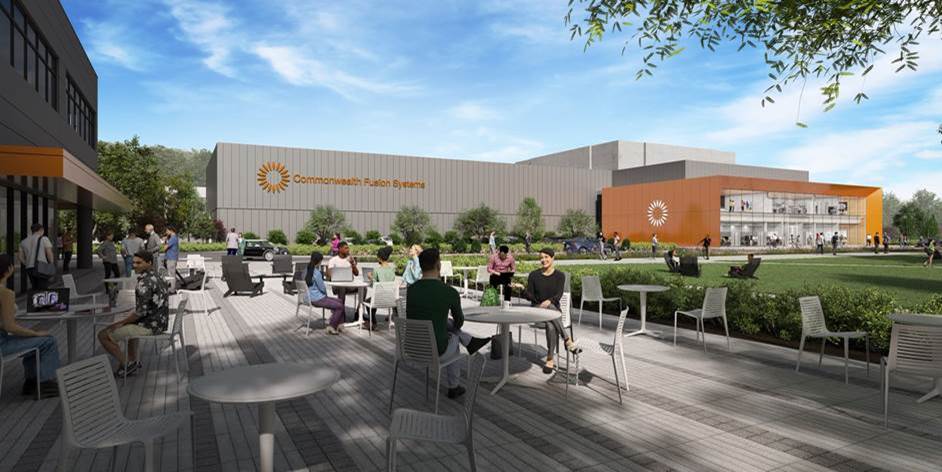 Cambridge-based clean energy startup Commonwealth Fusion Systems plans more than 700,000 square feet of R&D, office and manufacturing space at its new Devens campus.
Founded by Massachusetts Institute of Technology researchers in 2018, Commonwealth Fusion plans a five-building, 714,000-square-foot campus on 47 acres. The firm is developing a demonstration device called SPARC that uses superconducting magnets to contain high-energy plasma that it hopes to tap as a carbon-free power source. The technology could eventually translate into large-scale generation facilities.
Site work has begun on the initial phase of the project developed by King Street Properties, a 147,000-square-foot R&D building at 111 Hospital Road.
"Our involvement in the CFS project came about because of relationships we have with the team and the fact that real estate is not part of their daily skillset," King Street Properties Principal Stephen Lynch said. King Street will develop and own the facility and lease it to CFS.
A second phase would include construction of a 160,000-square-foot manufacturing building.
Biomanufacturing Interest Strong
King Street Properties, for its part, is moving forward with the first phase of its own speculative biomanufacturing campus at 45 and 75 Jackson Road, about a half-mile from the CFS property. The campus is positioned to serve Cambridge-area life science companies that want nearby drug production facilities for quality control purposes.
The first 100,000-square-foot building broke ground in February and is scheduled for completion in late 2021. Construction of a second building will begin this fall and open in the second quarter of 2022, Lynch said. Strong interest from prospective tenants prompted King Street to accelerate the development timeline.
"We're excited about the volume of leasing inquiries and proposals, and expediting our construction plans," he said.
That's not surprising given the mismatch between demand and availability for such facilities in Greater Boston. Colliers International is tracking 2 million square feet of biomanufacturing requirements in the region.
"The demand is through the roof," said Aaron Jodka, national director of capital markets research for Colliers International. "We've never seen it stronger in Greater Boston. Groups are interested in controlling the research and development all the way through production here in Massachusetts, and there's other groups interested in contract manufacturing of pharmaceuticals for other firms."
Dwindling Development Sites
Bristol-Myers Squibb, which owns an 89-acre campus at Devens, received approval last April for a 240,000-square-foot cell therapy facility which will employ an estimated 800 people. The drug manufacturer's existing facilities at Devens span approximately 400,000 square feet.
"When it comes to electricity capacity and dependability, Devens is a leader of the pack," JLL's Travaline said. "There's access to high-capacity water and sewer, which is important for life science manufacturing."
JLL is marketing a range of available development sites at Devens with acquisition prices in the $150,000 per acre range, Travaline said. The costs reflect discounts to comparable sites inside Interstate 495, but have risen approximately 50 percent over five years as demand has increased.
That leaves just a handful of large-scale parcels available, including the 80-acre 40 Salerno Circle property which requires environmental clean-up before it can be redeveloped.
Among the shovel-ready sites, the second-largest – the 18-acre 16 Bulge Road – is currently under agreement to an undisclosed developer, Travaline said. The site is zoned for uses including life science, offices, R&D and light manufacturing.
Also available are the 30-acre 27 Hospital Road, which is zoned for a mixed-use campus including a hotel, and the 9-acre 11 Grant Road, which is zoned for life science.
"We really saw an uptick about two years ago with King Street Properties and their interest in 45 and 75 Jackson Road. That really opened the floodgates to other users looking for R&D and life science manufacturing," he said.
To Top